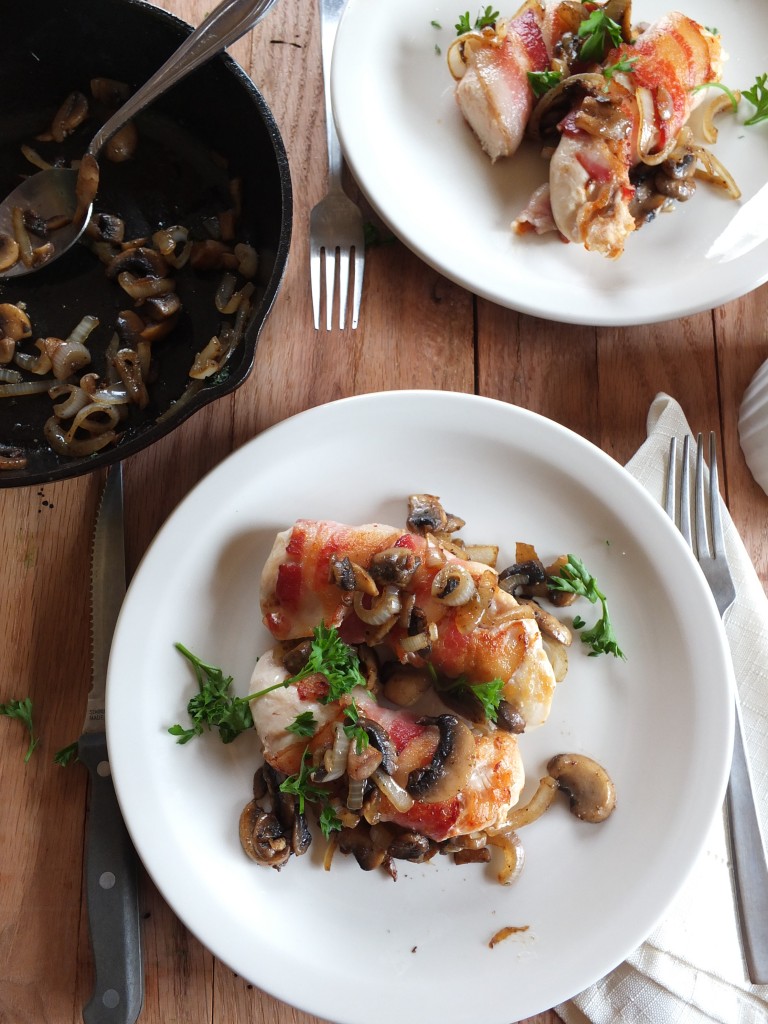 Chicken is probably the most boring meats there is.  Correction: Chicken is the most underrated meats there is.  I'm sure you all know what I mean.  I have lots of pre-paleo memories of dry chicken breasts.  Very dry.
When people go paleo, they think their days of chicken breasts are over.  And they're right, mostly.  Personally, I think chicken breasts can taste delicious, they just need a big ol' dose of one of my favorite little things: fat.  Think bacon, butter, cream, etc.  Yum-o.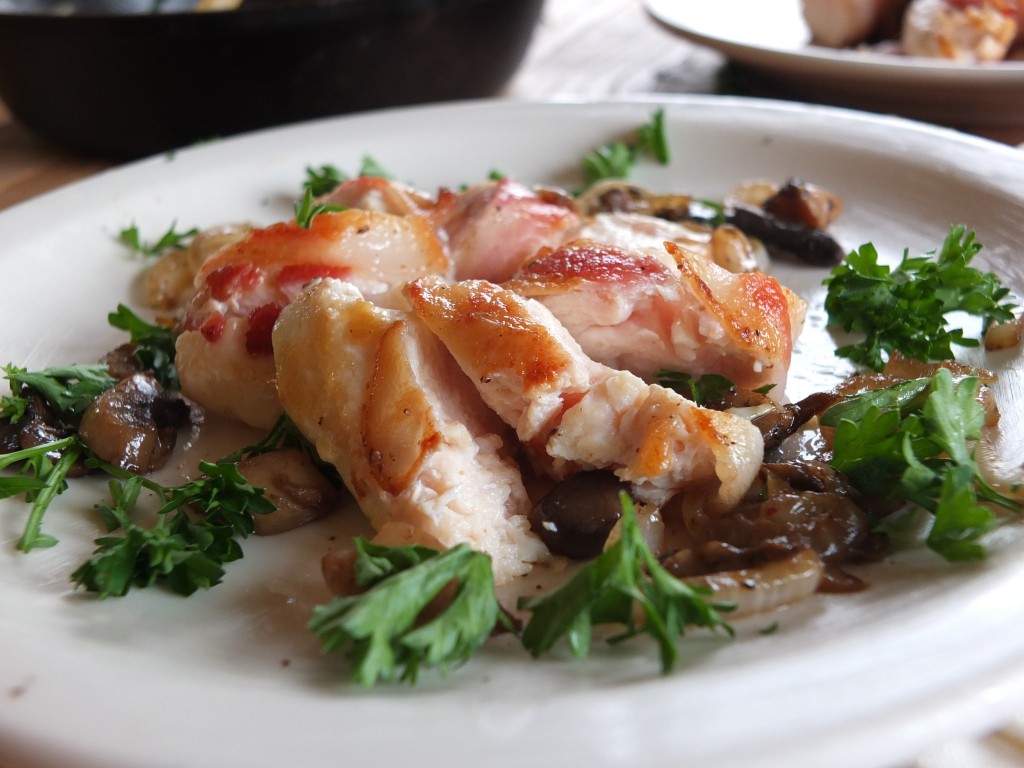 And of course what better way to serve chicken breast that to encase it in bacon? I honestly can't think of a better way, except maybe encasing it in chocolate, but I don't think that would go over well.
Anyway, I have been hard at work on my cookbook and (teaser alert!) there was this one chicken dish I was having a really hard time perfecting.  I put in bacon and mushrooms and rosemary and cream and broth and wine and the kitchen sink (almost). So my dad said, "Just serve chicken with bacon and mushrooms."
So here it is: finger-lickin' chicken with bacon and mushrooms! (Did I really just write fingerlickin' chicken? My goodness.)
Make this on the weekend or the weeknight or maybe even for breakfast (bacon is a breakfast food, after all).
One more thing: if you love bacon like we do (and who doesn't?), this recipe serves 1.  Maybe 2.
[Tweet "Delicious bacon chicken smothered with mushrooms and onions!"]
Recipe Notes:
Bacon chicken is pretty straightforward, but just make sure you bacon is actually pork bacon, NOT turkey bacon or beef bacon.  It's just not the same.
If you need to, you can pour out a little bit of the bacon fat before you add the bacon and mushrooms to the pan, if you think it's too much.  Just be sure to save the fat for scrambled eggs.
Also make sure that you get the bacon nice and crispy.  It's all in the details…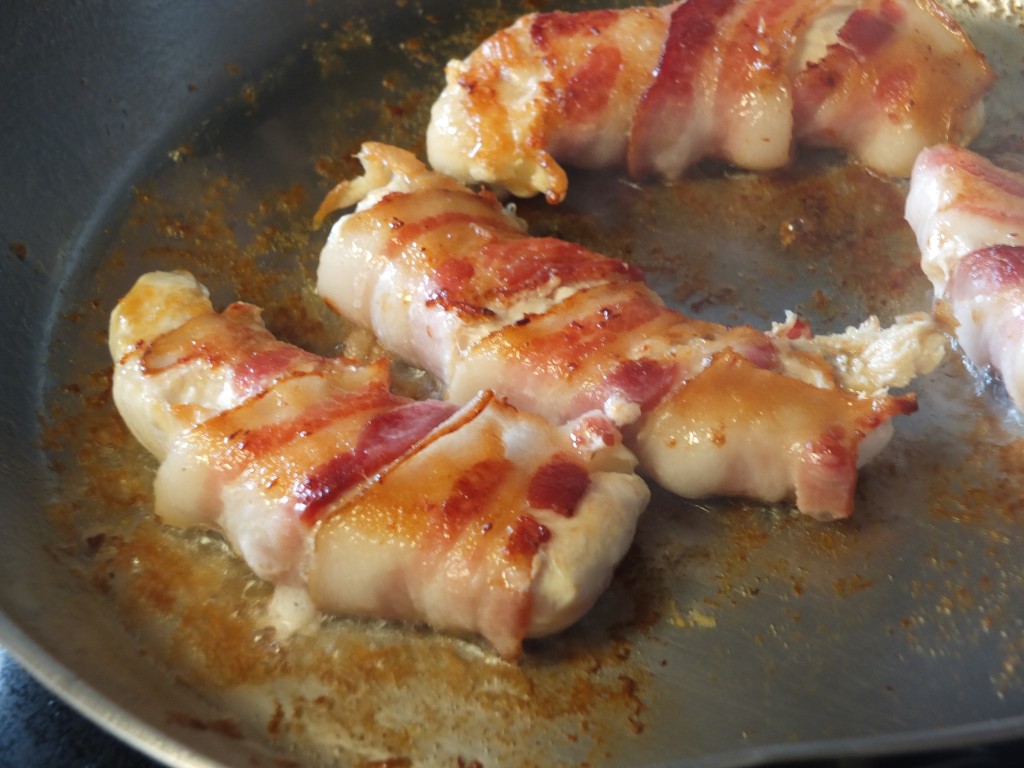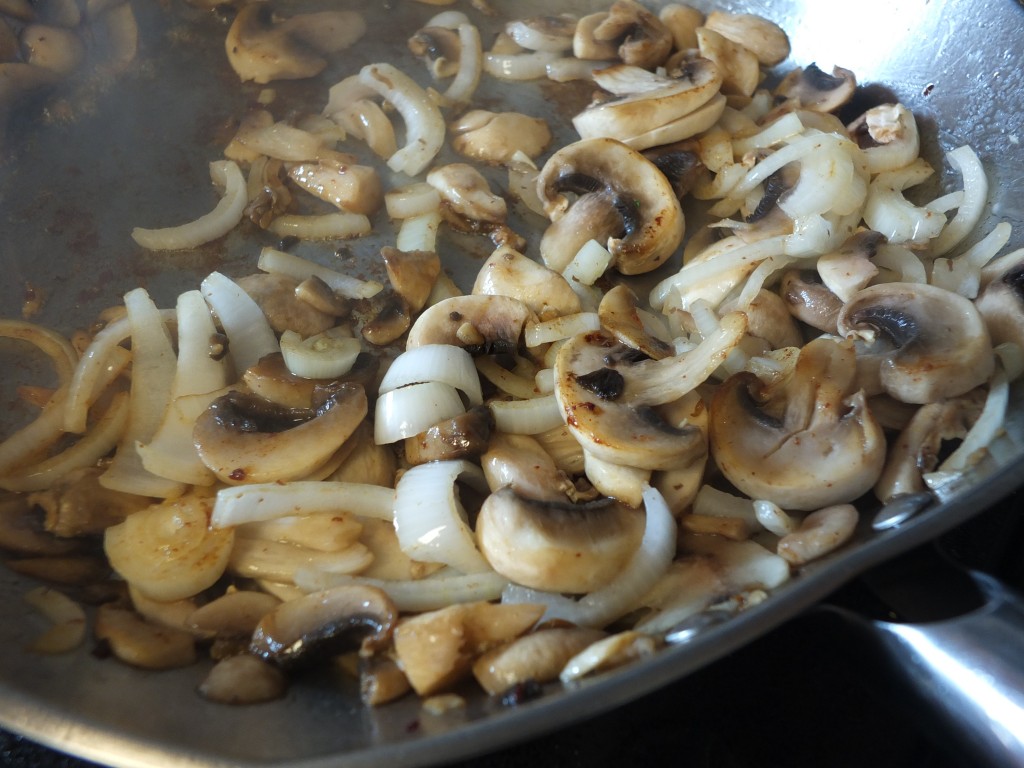 Can you say perfection?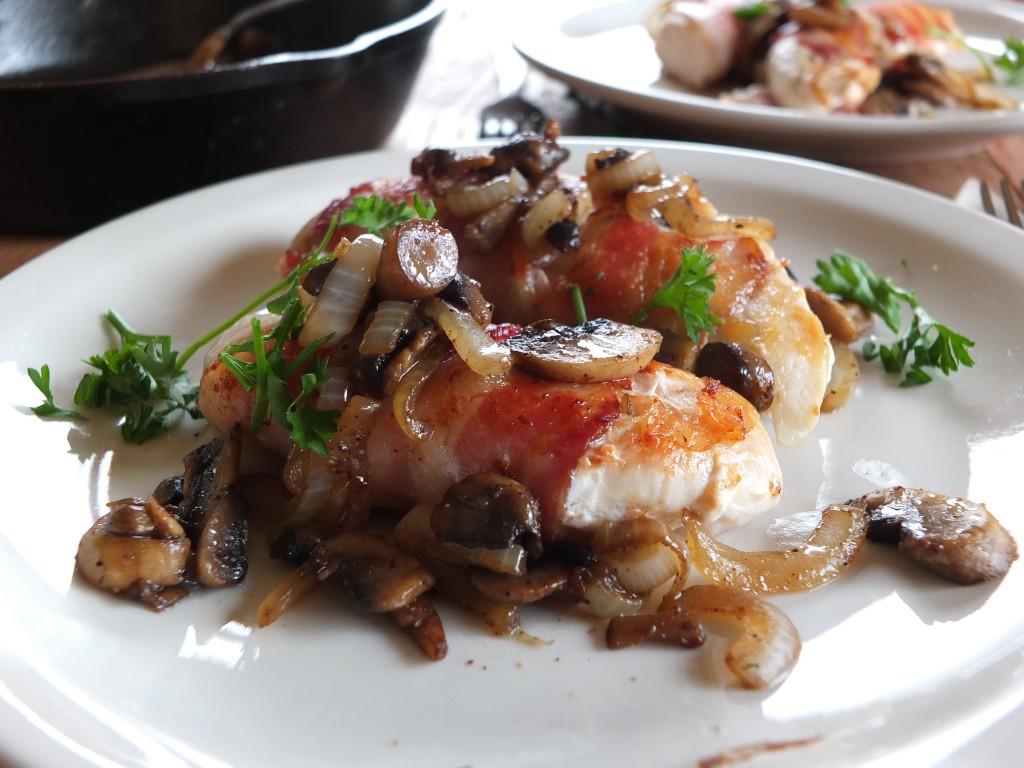 Shared at Fat Tuesday, Fight Back Friday
Bacon Wrapped Chicken With Mushrooms and Onions
Ingredients
boneless skinless chicken breast - 1-1/4 lb, cut into about 10 chicken tenders
bacon - 8-10 strips
mushrooms - 12. oz., sliced
onion - 1 small, sliced
sea salt - to taste
freshly ground blackk pepper - to taste
Instructions
Begin by wrapping each chicken tender in bacon. (Chickens in piggy blankets!)
Heat up a large skillet and add the chicken. Cook for 3-5 minutes per side, or until bacon is crispy and chicken is cooked through.
Remove the chicken to a plate and add the mushrooms and onions to the pan.
Saute until the veggies are cooked down and a bit browned. Add salt and pepper to taste.
Serve the chicken topped with bacon and onions. Yum.