Ahhhh yes.  Salmon.  It's fish, you know.  How can it possibly taste good? Well, you see, there is a foolproof way to make anything (well, almost anything) taste good; and that is wrapping it in bacon. Sound crazy? Just try it.  It is so delicious.  Crisp bacon wrapped around tender, mild salmon; it's like a fancy upscale dinner! And it is super-easy; a perfect emergency supper.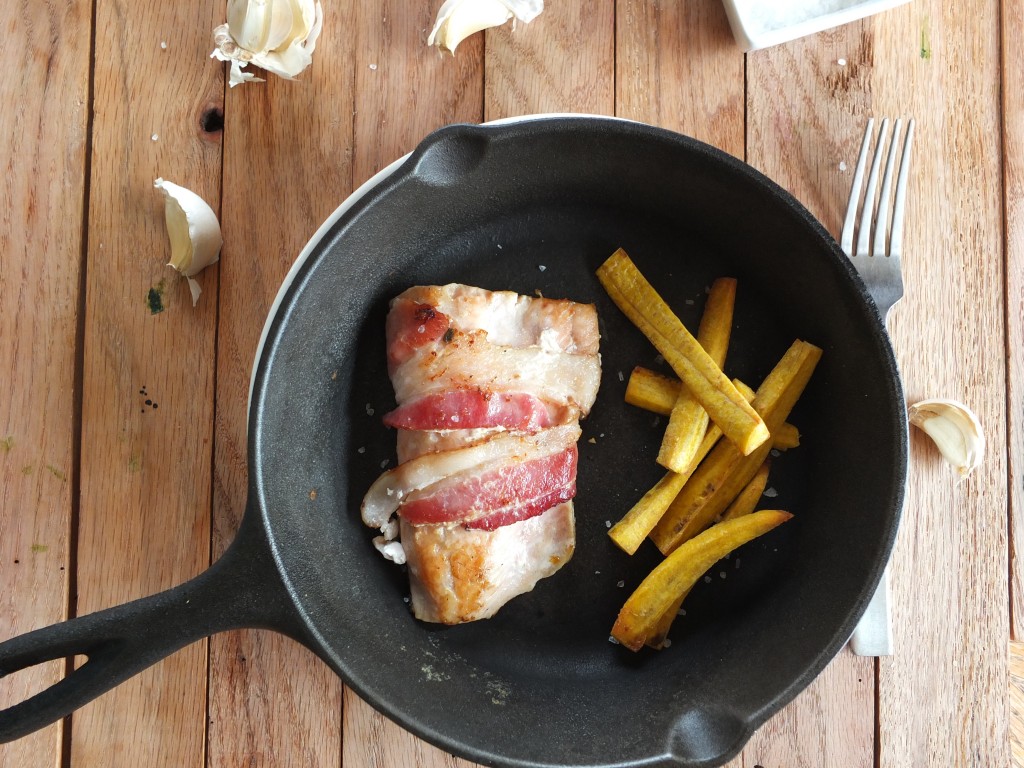 As for the plantain fries: Let's just saymy mother and I had words over potentially making the fries a whole separate post; they were that good.  I am putting them with the salmon because I thought they made such a delicious and nourishing (not to mention autoimmune paleo friendly) meal.  Fries with salmon? Well, why not?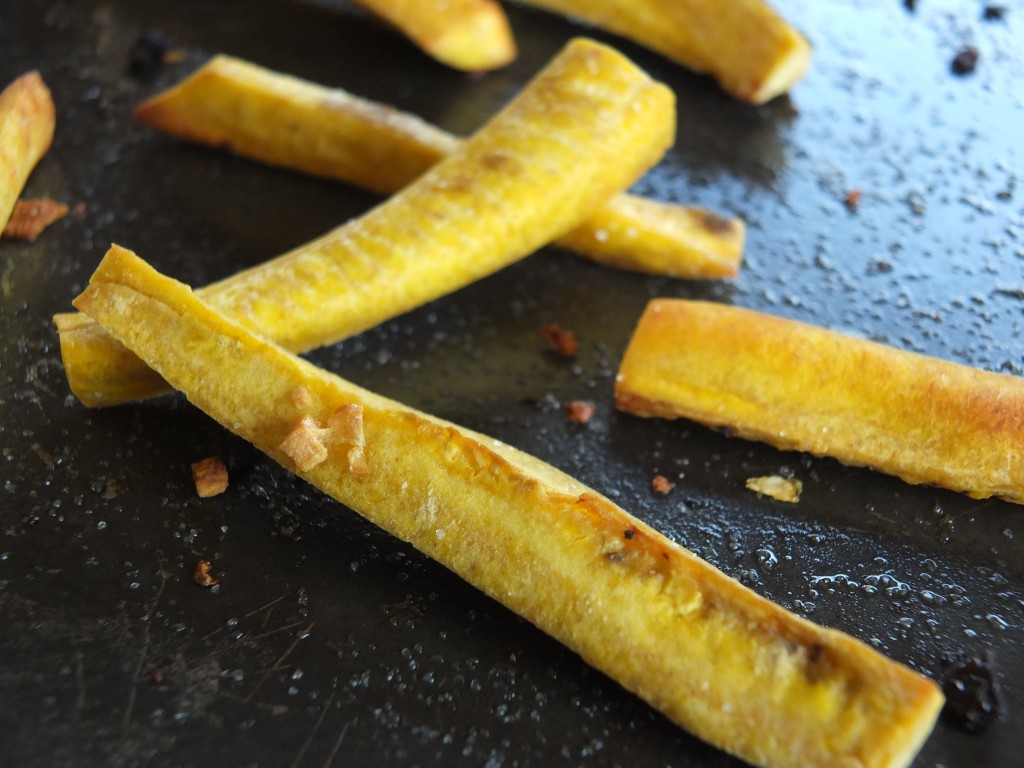 Allow me to replay my brother's reaction to the baked plantain fries:
Brother: Mom, can I please have just one of your fries?
Mother: Yes, you may have one.
Brother: (Munching) Wow! Can I have five?!!
Yes, this did actually happen.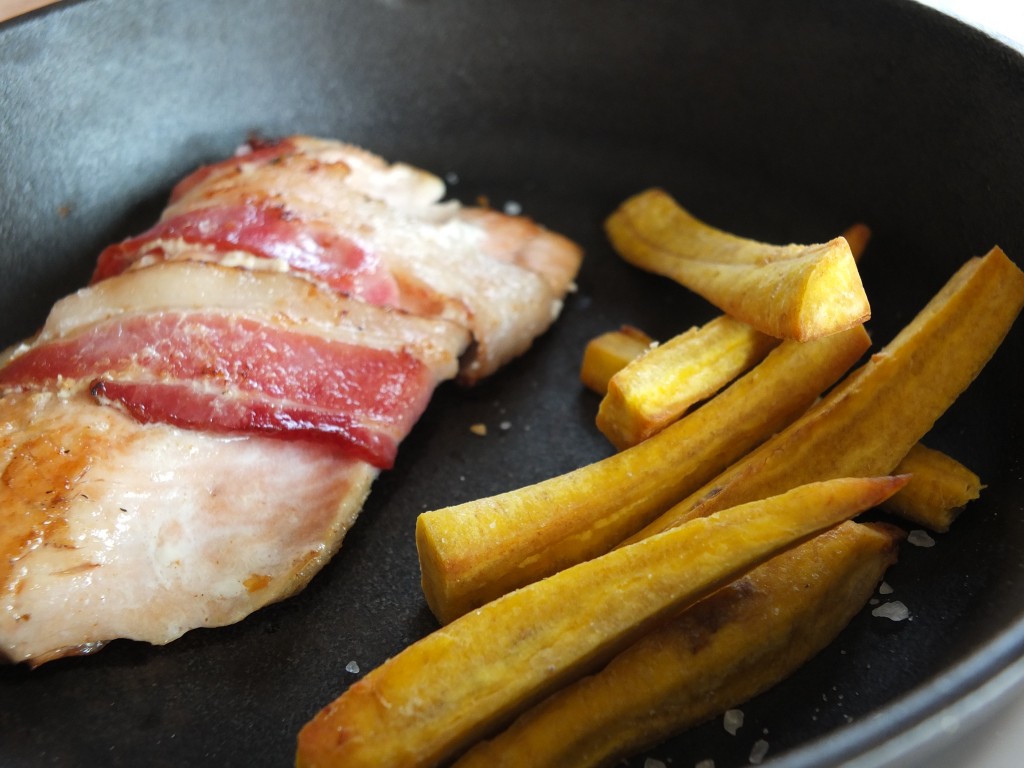 So what are you waiting for? Go make bacon-wrapped salmon and plantain fries!!!!!
[Tweet "delicious paleo meal: bacon-wrapped salmon and baked plantain fries!"]
Shared at Fight Back Friday, Fat Tuesday, Allergy-Free Wednesday, and AIP Recipe Roundtable.
Recipe Notes:
This probably goes without saying, but use real bacon for this recipe.
Wild-caught salmon fillets are pretty easy to find; I think we got ours at Aldi.
Make sure to use very green plantains for the fries; we want these fries to be savory, not sweet.
I recommend using a cast-iron skillet to cook the salmon in; it distributes heat well and cooks proteins nicely.
Plantain fries are best with lots of sea salt.
*Disclosure: I may receive compensation if you buy products through the links in my blog posts.  I do not link to products I would not personally buy and use myself.
Bacon-Wrapped Salmon with Baked Plantain Fries (AIP-Friendly Meal)
Ingredients
Plantain Fries
green plantains - 2 large, peeled sliced into thin
fat of choice - 2 tablespoons, melted
garlic - 2 cloves, minced
salt - to taste
Bacon-Wrapped Salmon
salmon fillets - 4, 4 to 6 oz. each
bacon - 4 strips
Instructions
To make the plantain fries:
Preheat oven to 400 degrees Fahrenheit.
Place the plantain "fries" in a single layer on a baking sheet.
Toss with fat of choice and salt.
Bake for 10 minutes.
Stir the garlic into the fries and bake them for another 15 minutes.
To make the salmon:
Wrap each salmon fillet with a strip of bacon.
Cook each fillet about 3 minutes per side in a hot cast iron skillet, or until bacon is crisp and the fish is cooked through.
Serve with plantain fries.