Note from Heather: I can't remember how I found Sadie's blog, but I was impressed with her recipes, photography, and blog overall! Her recipes are paleo-friendly and so delicious-looking! And guess what: she is only 13 years old!! I love finding other paleo bloggers, but I especially love find other teen paleo bloggers! Go check out Sadie's blog and make sure to follow her; she is is so talented and amazing!!
Take it away Sadie…
Hello, everybody! I'm Sadie, a thirteen-year-old paleo enthusiast and baker! I am so honored to be guest posting for Heather today, as I've been reading her blog for so long, and admiring it constantly!
When she asked me if I'd guest post, I thought," Well- it better be an amazing post, because it'll be on COOK IT UP PALEO!"
This recipe is definitely a winner, and perfect for the heat wave we are currently in! The Farmers' Markets are currently bursting with fresh, sweet fruits, so I simply had to create a recipe to use all of them.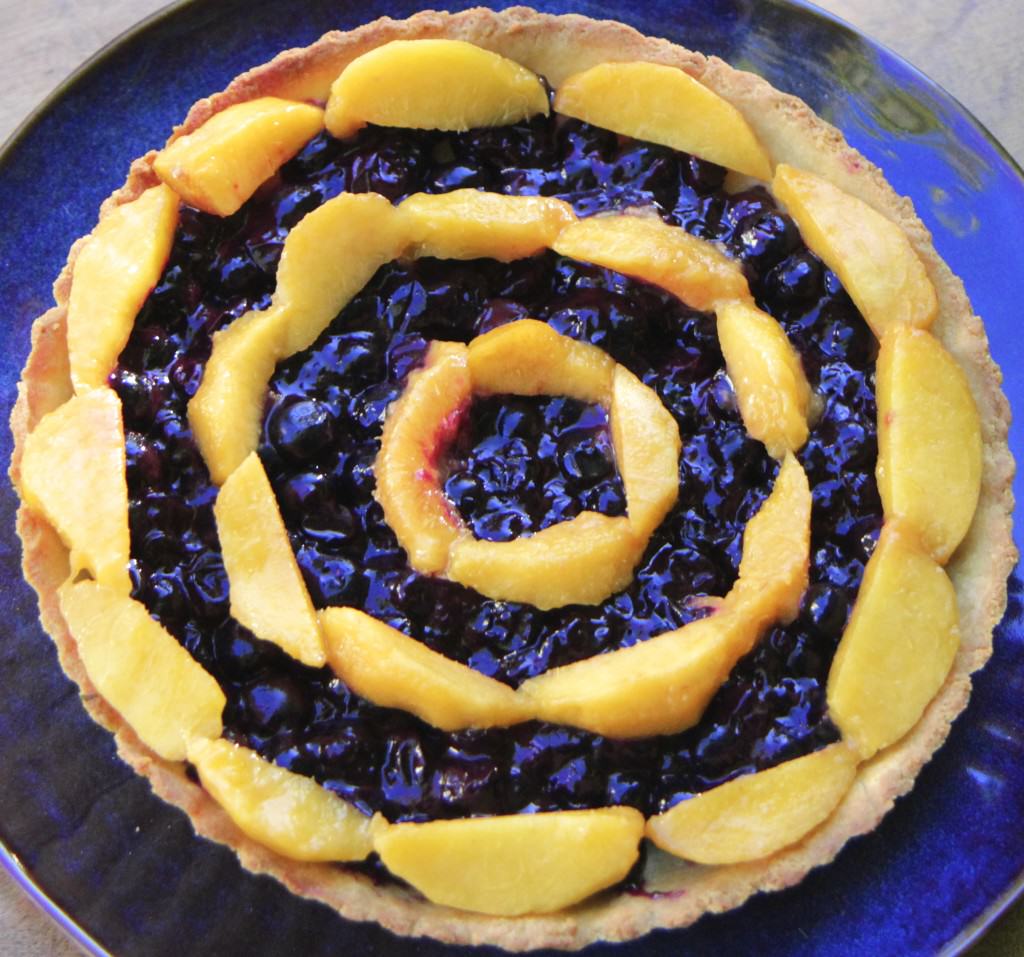 This tart is super refreshing and sweet. I made it for Father's Day, and my entire family was so blown away by the blueberry-peach combination, and how each blueberry exploded in their mouth!
I like to make the crust ahead of time, and freeze it, unbaked, until a couple hours before I'll be serving it. This way, all I have to do is defrost it, and bake!
Just make sure to leave enough time for the blueberry mixture to thicken up in the fridge. It may take a few hours, but it is SO worth it!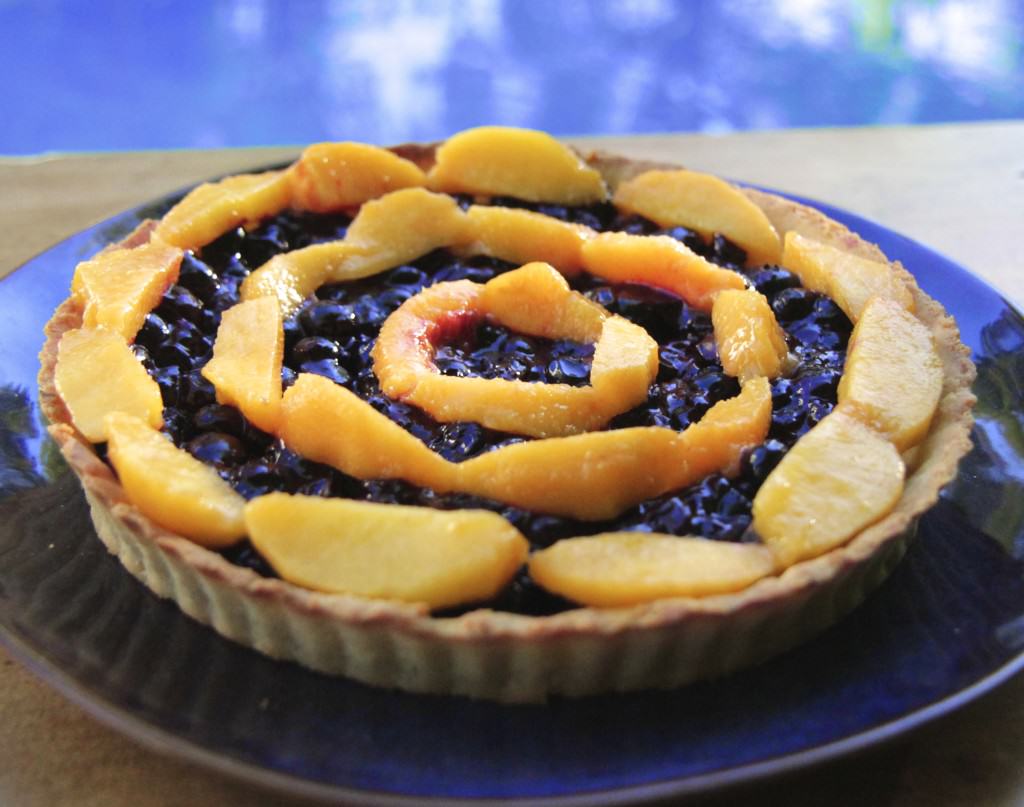 I hope you enjoy this recipe! For others like it, visit my blog, Goodies Against The Grain! Also, you can check out what I'm cooking by following me on Instagram: @goodiesagainstthegrain or on Facebook!
Shared at Fat Tuesday, Allergy-Free Wednesday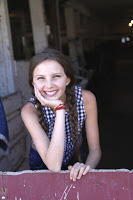 Blogger Bio: Hi! I'm Sadie, a 13 year-old baker and lover of good food.
Baking healthy treats is my passion. I adore scouring Farmers' Markets, hunting for fresh, seasonal ingredients to experiment with in the kitchen. I use my blog, Goodies Against The Grain, as a way to share my favorite recipes that I've created, with the world!
Blueberry and Peach Tart (guest post from Goodies Against the grain)
Recipe type:
Fruit Dessert
Ingredients
Crust:
blanched almond flour - 1 cup
arrowroot starch - 1/2 cup plus 1-2 tablespoons
egg - 1 large
ghee or coconut oil - 3 tablespoons, plus more for greasing
honey or maple syrup - 1 teaspoon
almond or coconut milk - 1 tablespoon
Blueberry Filling:
fresh blueberries - 3 cups
filtered water - 1/4 cup
lemon juice - 1 tablespoon
honey or maple syrup - 1 tablespoon
unflavored gelatin - 1 teaspoon
Peaches:
peaches - 2-3
Instructions
For the crust:
Grease one 9-inch removable-bottomed tart pan with some ghee or coconut oil, and preheat your oven to 350 degrees.
In a medium-sized bowl, mix together the almond flour and ½ cup of the arrowroot starch, then stir in the rest of the ingredients.
The dough should be a bit sticky and wet. Add the rest of the arrowroot starch one tablespoon at a time, until the dough hold together and becomes less sticky. Feel free to mix using your hands!
Refrigerate the dough for at least 5-10 minutes, then form it into a ball, and place in the center of the greased tart pan. Using your palms, press it outward, until it gets up the sides of the pan, evenly covering the bottom, and all sides.
Poke a few holes in the bottom, using a fork, then place in the oven, on the second-to-upper rack. Bake for 15-20 minutes, or until the edges are starting to get golden brown and crispy.
Remove from the oven, and let cool to room temperature before filling.
For the blueberry filling:
In a medium saucepan, combine 2 cups blueberries, the water, lemon juice, and honey. Cook on medium heat until the blueberries start popping, and the mixture is boiling.
Slowly, whisk in the gelatin until it dissolves.
Carefully, drain most of the liquid out of the mixture, and into your sink. Now, stir in the last cup of blueberries. It is great to have a little water still left in the pan- just not a lot.
Let the mixture cool to room temperature, then cover, and place in the fridge for at least 2 hours, or until the gelatin solidifies.
For the peaches:
Peel the peaches, and slice into pretty, thin slices. That's it!
To assemble:
Scoop the cold blueberry filling into the pie crust, and spread evenly onto the bottom.
Place the fresh peach slices on top, arranging nicely. Get creative! Enjoy ☺