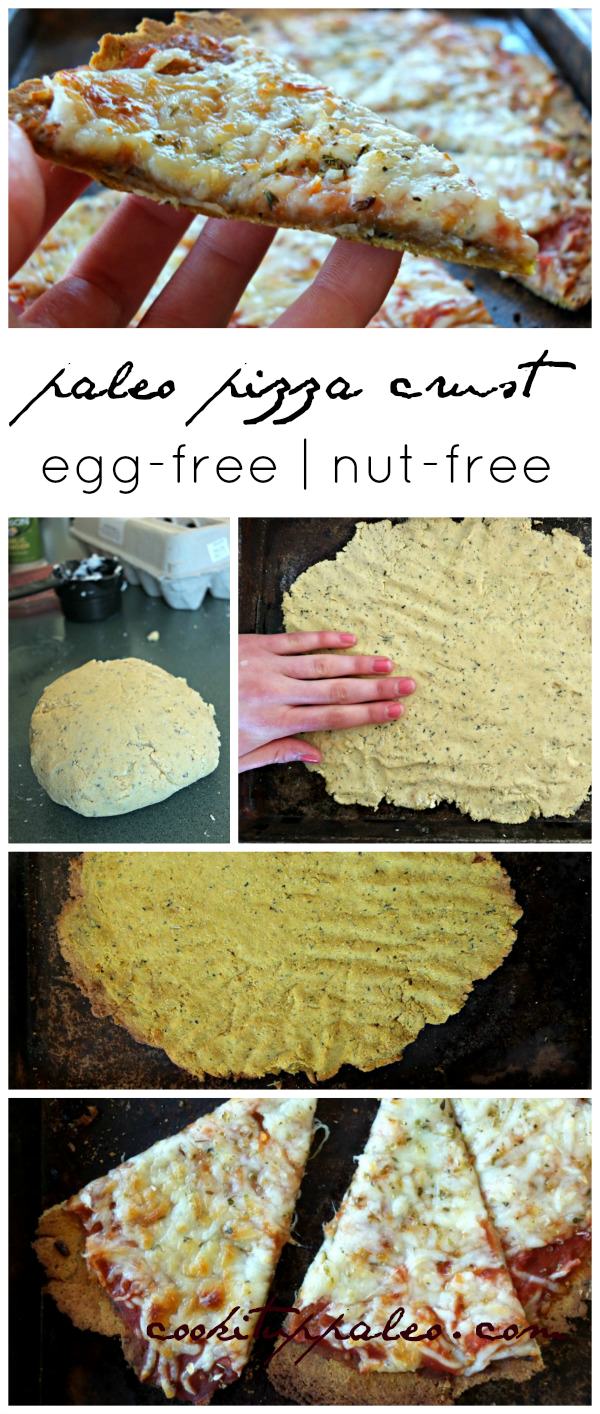 My family loves pizza. Before paleo, we loved to have make-you-own-pizza movie nights.  Mom would make her famous herbed pizza dough, and then we would all roll out our little circles of dough and top the crusts to our hearts' desires.
We went through a lot of paleo pizza dough recipes to find one that was up to our standards.  Almond flour, coconut flour, cauliflower, meatza, ground chicken; it seemed like we tried all the paleo pizza recipes that we could find on the interwebs.  Then we found the pizza crust in Paleo Indulgences by Tammy Credicott.  The crust was amazing.  But then my dad got diagnosed with an egg allergy, and we were back to square one.
Our next solution was a plantain pizza crust.  It was delicious, and didn't have any eggs, which was really nice.  That recipe is in my cookbook!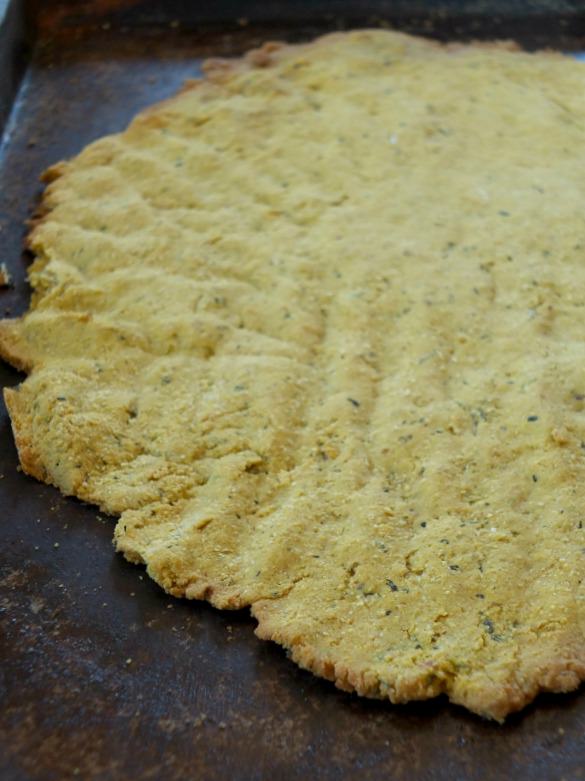 But… then our local supermarket stopped carrying plantains.  *sad face*
Enter cassava flour pizza crust.  You guys know by now how much I love cassava flour and how many recipes I make with it, and this recipe is no exception.  I made this recipe before I went to work one day, sampled it, and then told my brother he could eat some of it for lunch.  I came home and asked my mother how she had liked the pizza I made.  Her response was, "What pizza?" My brother had eaten the entire pizza!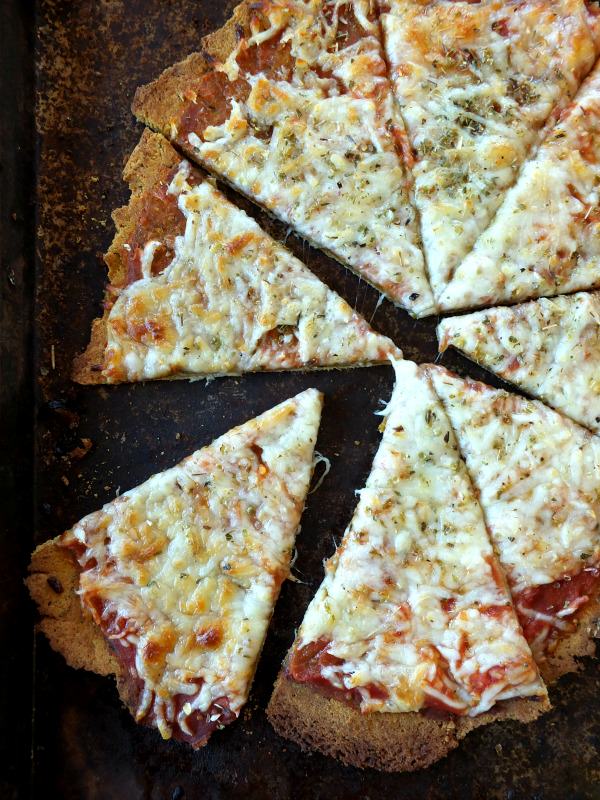 This cassava flour pizza crust is a nice thin crust that is crispy on the edges.  It's egg-free. nut-free, grain-free, and dairy-free, but you would never know it! Next time we have pizza movie night, this is the recipe I will make.  I topped mine with tomato sauce and cheese, but if you are AIP, I would recommend using No-Mato Sauce from He Won't Know It's Paleo and lots of meat and veggies!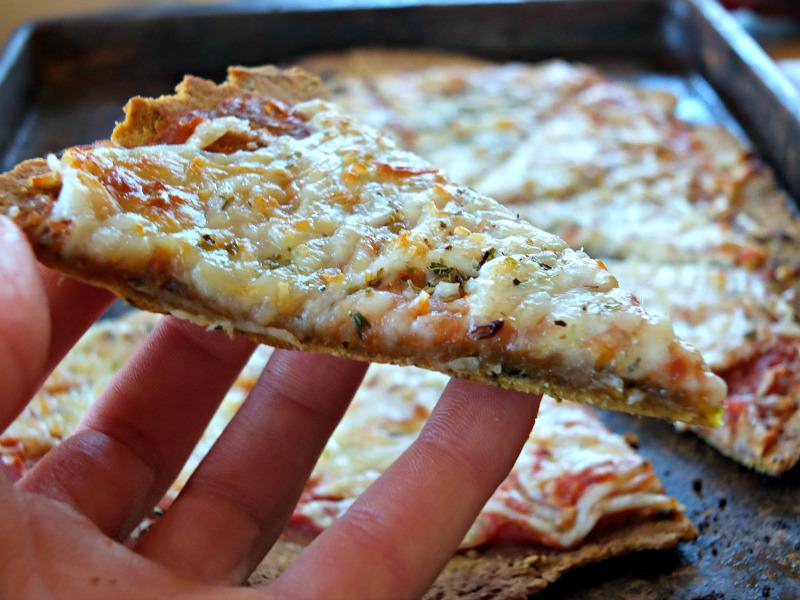 Get cassava flour here.
Disclaimer: If you buy something through one of the links in my sidebars or posts, I may receive a small commission to support my blogging activities, at no extra cost to you.
Shared at Flashback Friday, Tasty Tuesday, Fat Tuesday, Allergy Free Wednesday, Gluten-Free Wednesday, Lou Lou Girls Fabulous Party
Paleo Thin Pizza Crust
Ingredients
coconut cream - 1/2 cup
pure pumpkin puree - 2 tablespoons
extra-virgin olive oil - 2 tablespoons
pure maple syrup - 1/2 tablespoon
cassava flour - 2/3 cup
coconut flour - 1/4 cup
garlic powder - 1/2 teaspoon
dried basil - 1/2 teaspoon
dried oregeno - 1/2 teaspoon
dried rosemary - 1/4 teaspoon
salt - 1/2 teaspoon
baking soda - 1/4 teaspoon
pizza toppings - of choice (sauce, cheese, veggies, meat, etc.)
Instructions
Preheat oven to 400 degrees Fahrenheit.
Grease a medium-sized cookie sheet with some coconut oil.
In a large mixing bowl, combine the coconut cream, pumpkin puree, olive oil, and maple syrup.
Stir in the flours, spices, salt, and baking soda. Dough should come together.
Press the dough into an oval 1/8" thick on the prepared baking sheet.
Bake for 15 minutes.
Use a spatula to flip the crust and top with your toppings.
Turn the oven up to 425 degrees Fahrenheit and bake for 10-15 minutes more.