This is a sponsored post written for Dierks farm. 
Note from Heather: I am excited to be working with Dierks Farm grass-fed beef to bring you awesome info about where healthy meat comes from! Dierks Farm is a family-owned Illinois (south of my home state!) based business that produces high-quality  100% grass-fed beef.  Check out their website here and use the code "cookit" to get 10% off any order! Also, don't forget to support their Kickstarter campaign!
Today's post is a guest post from Pam Dierks of Dierks Farm; all about the health benefits of eating grass-fed!
Take it away Pam…
What does green grass have to do with healthy beef? The way that cows are fed can have a huge effect on the nutrient components of the beef. Many studies have shown that the nutrients in beef can vary depending on what the cows eat. We know that it's important to know what we are putting into our bodies. It's also important what the food that we eat, eats.
Most cows start out living similar lives. Calves are born on the farm and drink milk from their mothers and then they are allowed to roam free and eat grass, shrubs or whatever edible plants they find in their environment. This will continue for about 6 to 12 months. After that, the "conventionally" raised cows will be moved to feedlots. On a grass fed farm such as Dierks Farms they continue to live a stress free life on pasture. They roam free which creates delicious grass fed beef. A happy cow makes tasty beef.
What are some of the nutritional facts about grass fed beef? Grass fed beef has less saturated and monounsaturated fats. It is high in Omega-6 Polyunsaturated Fats, all of us need this is our bodies. It's high in Omega-3's. This is really where grass fed makes a major difference; it contains as much as 5 times as much Omega-3 as non grass fed beef. Grass fed beef contains about twice as much CLA as grain-fed beef. This fatty acid is associated with reduced body fat and some other beneficial effects.
This tells you why you need to eat grass fed beef. Now, let's talk about knowing where your grass fed beef is grown. Wouldn't it be great to know exactly where you beef is grown? Dierks Farms is a family farm in Southern Illinois. Dierks Farms has operated as a family farm since 1881. Our cattle are 100% grass fed beef, which are never fed grain or given antibiotics. We believe in raising healthy beef for our customers and their families. Meat direct from your farmer will give you peace of mind knowing that your meat is coming from a direct source. In turn you are helping the family farm continue to maintain a strong presence in our American infrastructure.
Dierks Farms will be offering grass fed beef direct to our customers beginning in March of 2016. You can help get Dierks Farms grass fed online business launched. Dierks Farms is now being featured on Kickstarter. You can view the project here.
To get you off to a great start cooking with grass-fed beef, I (Heather) am sharing this recipe for Paleo Taco Pasta – it's stupid easy and will knock your socks off!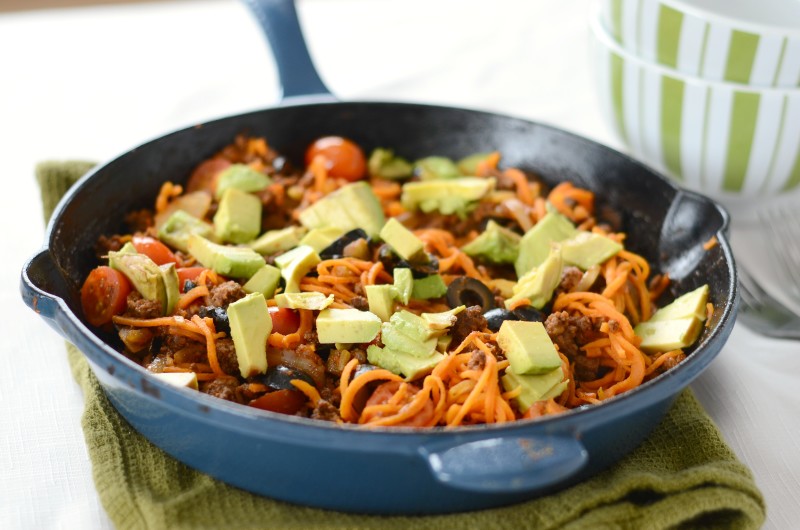 Paleo Taco Pasta
Ingredients
Beef:
1 pound grass-fed ground beef (Use code "cookit" for discount)
1 tablespoon chili powder
1/2 tablespoon onion powder
1/2 tablespoon garlic powder
1/2 tablespoon dried cilantro
Sauce and veggies:
1 tablespoon coconut oil
1 small onion, chopped
1 cup salsa
1 cup halved grape tomatoes
1 cup sliced black olives
Noodles:
2 medium sweet potatoes, spiralized
1 tablespoon coconut oil
2-3 tablespoons water
Garnish:
Instructions
Beef
Brown the beef with the spices over medium heat, stirring, until cooked through. Remove from pan.
Sauce and veggies:
Melt the coconut oil in the pan and add the onion.
Saute until tender.
Add the seasoned meat, salsa, grape tomatoes, and olives. Cook for a couple minutes, stirring.
Noodles:
Meanwhile, melt a tablespoon of coconut oil in a separate pan over medium heat.
Add the spiralized sweet potatoes and cook for minute.
Add the water to the pan; cook until sweet potato noodles are cooked and water is evaporated.
Mix the sweet potato noodles into the meat mixture.
Garnish:
Fold in the diced avocado.
Serve immediately.
Nutrition Information
Serving Size:
1/4 of recipe
Calories:
664
Fat:
38.1 g
Saturated fat:
14.6 g
Unsaturated fat:
23.5 g
Trans fat:
0 g
Carbohydrates:
57.9 g
Sugar:
4.9 g
Sodium:
799 mg
Fiber:
13.3 g
Protein:
27 g
Cholesterol:
76 mg
————————————-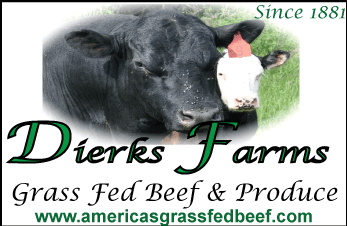 Blogger Bio: Dierks Farms was founded on the basis of Grass-fed beef even before the health benefits were brought to light. Today, we believe in Grass Fed because it benefits the health of our family, our animals, our customers and our environment. Our farming practices are centered around the humane treatment of our animals. Our animals are raised on stress free grass that is rotated on a regular basis both for the animals and the environment. Our family is the 4th & 5th generation of Dierks to farm our family farm. Our family works everyday to improve the world around us by using farming practices that will preserve our farm for generations to come.
—————————————
This is a sponsored post written for Dierks farm.  I only support companies I love.
If you buy something through one of the links in my sidebars or posts, I may receive a small commission to support my blogging activities, at no extra cost to you. Thank you for your support.