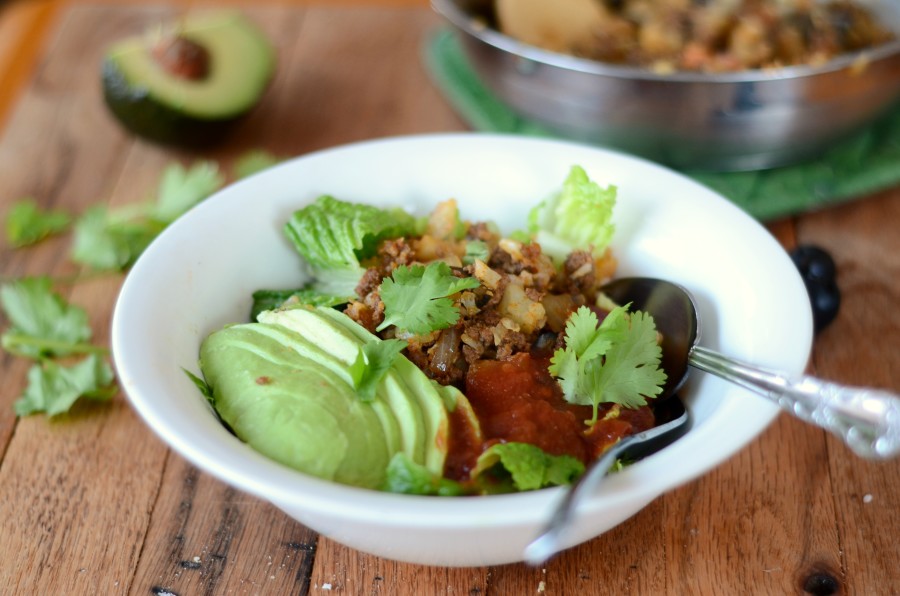 Yesterday was day two on my first-ever 21 Day Sugar Detox; I started on January 4 and I am loving it so far.  Now I can't say that I am not craving chocolate (and cheese; who am I kidding), and it is really hard for me not to nosh on cashews; they're my favorite nut in the whole world! But on the flip side, I am learning a lot about how I eat sugary items without even thinking about it; for instance, now that Cheerios are gluten-free, my family sometimes buys them (I know, not paleo).  I don't eat them but sometimes if the box is sitting on the counter I'll grab a few Cheerios while I'm walking by.  Same for chocolate chips, dried fruit, organic corn chips, etc.  I was actually eating way more sugary foods than I thought I was, but it was all in small amounts so I never thought about it.
So, day 2 – I've been strong in my workouts so far and while I've had a couple of tired spells, I'm feeling OK, and noticing that my appetite is more regulated (i.e. satisfied during the day, hungry at mealtimes).  I'm doing the 21DSD with my mother and I highly recommend doing this program with a partner; it makes it about a million times easier!
So far, so good, and as a side note you should totally pick up the 21DSD book just for the granny smith apple crumble recipe.  It's that delicious.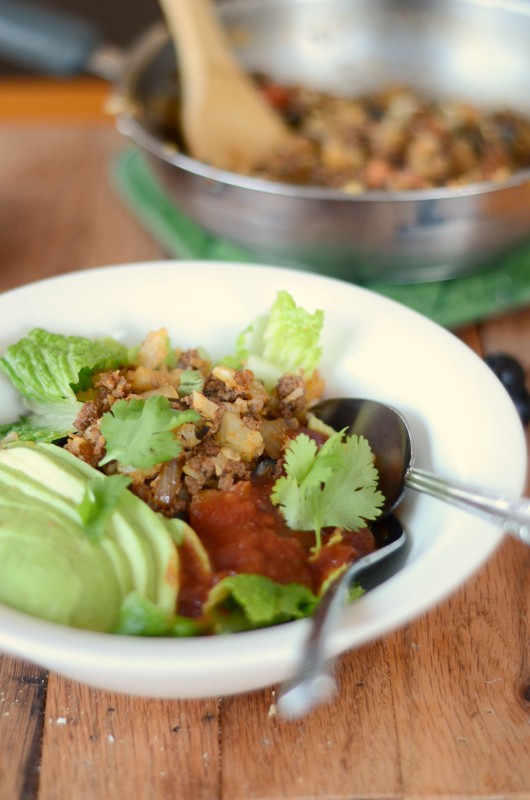 So let's talk about this burrito bowl! I've mentioned before that I looooove cookie dough Quest bars, but as those are not allowed on the 21DSD, I've had to focus more on real food snacks and lunches when out and about; it requires some prep but it's totally worth it!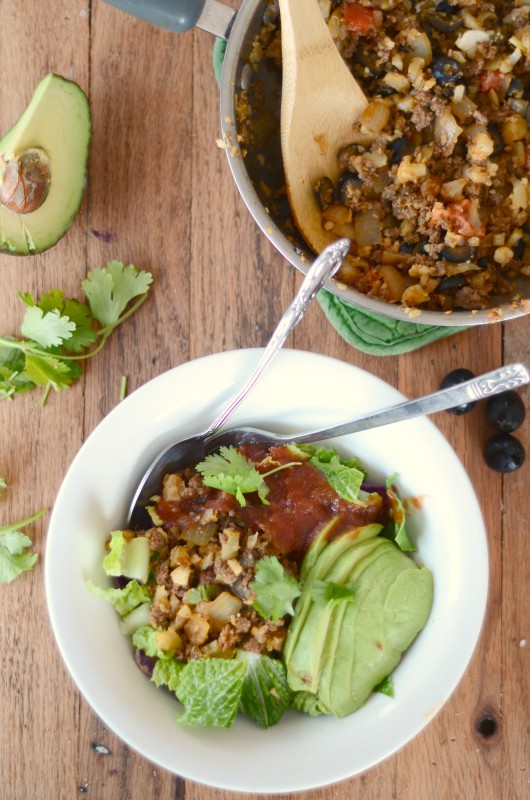 I came up with this recipe when I had a hankering for burritos.  It's so delicious and incredibly easy to make with leftover taco meat, which my family always seems to have somewhere in our fridge.  I made the meat mixture yesterday to store in the fridge and eat over lettuce throughout the week for lunches.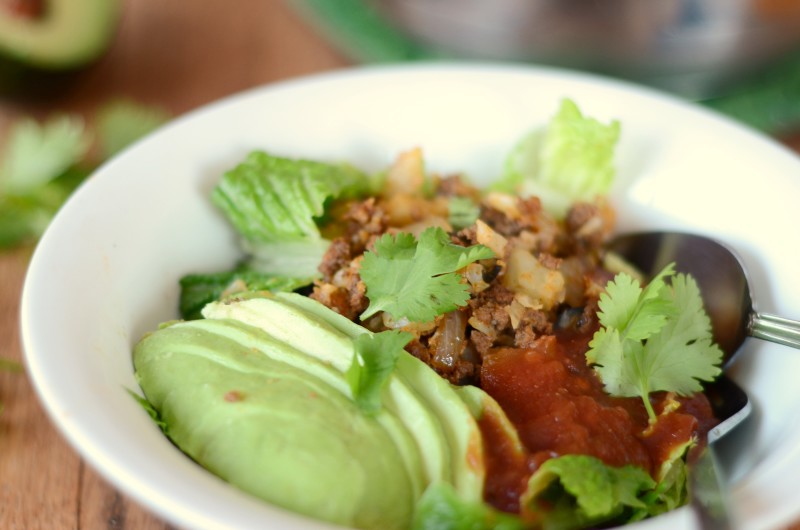 This seriously does taste like a burrito in a bowl, complete with cauliflower "rice" and olives, and salsa, plus avocado (of course avocado!).  Everyone will be jealous of your lunch!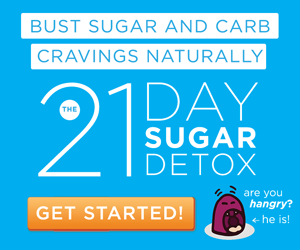 Paleo Burrito Bowl Recipe (21DSD)
Ingredients
2 tablespoons coconut oil
1 large onion, chopped
1 cup sliced black olives
3 cups riced cauliflower
2 cups leftover taco-spiced beef
4 roma tomatoes, chopped
5 cups shredded lettuce
1 ripe avocado, sliced
1 cup salsa
Diced cilantro
Instructions
Saute the onion, olives, and cauliflower in coconut oil until soft. Add the the taco meat and tomatoes and cook until hot. Serve over shredded lettuce and top with salsa, sliced avocado, and diced cilantro! Boom!
Nutrition Information
Serving Size:
1/4 of recipe
Calories:
515
Fat:
28.2 g
Saturated fat:
11.2 g
Unsaturated fat:
7 g
Trans fat:
0 g
Carbohydrates:
27.9 g
Sugar:
10.2 g
Sodium:
1167 mg
Fiber:
10.8 g
Protein:
40.8 g
Cholesterol:
101 mg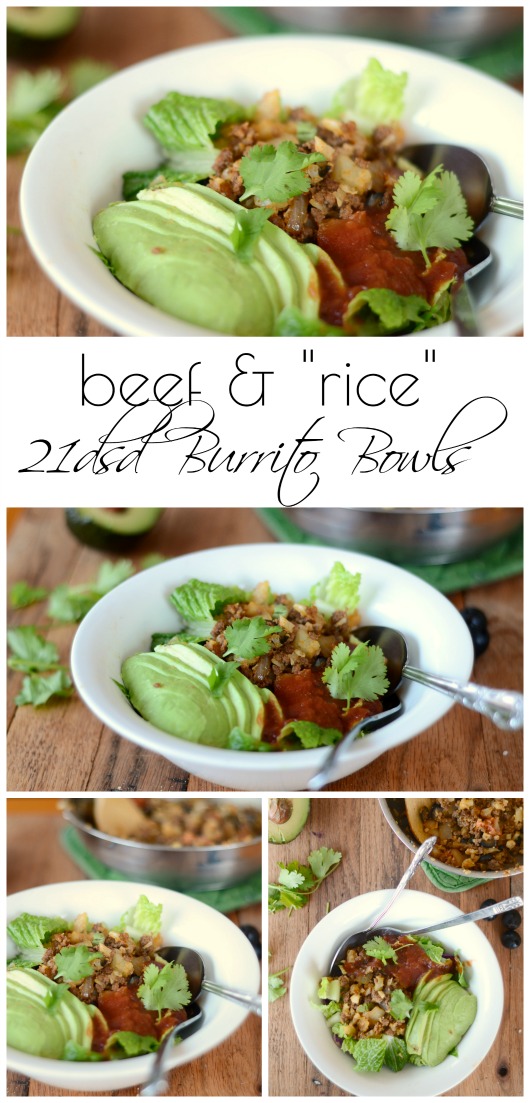 Shared at Allergy-Free Wednesday