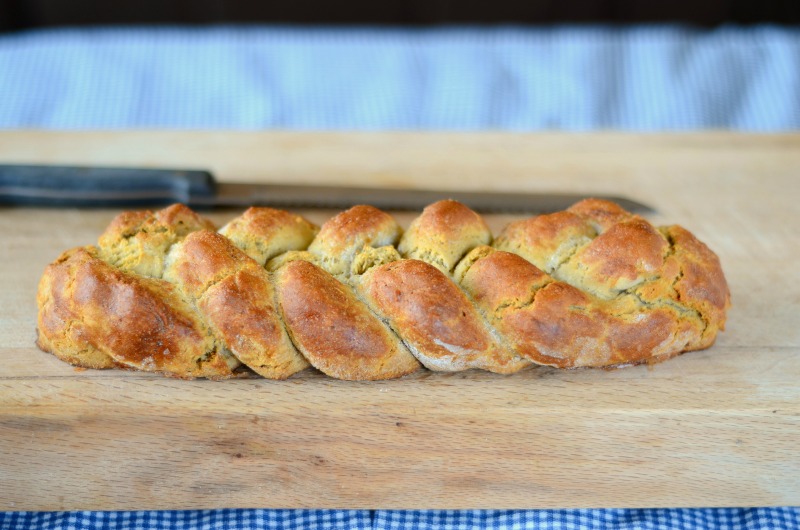 I had a reader email me and request a grain-free challah recipe to make for Easter dinner. Challah is simply bread enriched with eggs, oil, and sugar, and braided into a crusty loaf. Never one to pass up a paleo bread challenge, I set to work!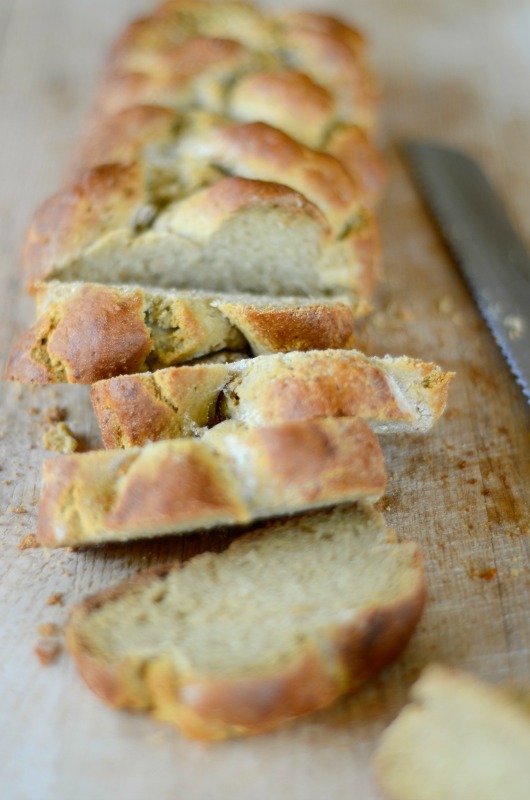 The loaf turned out totally yummy; beautifully brown and crusty on the outside and soft within. It's so good, I may even make it for our own Easter Sunday dinner!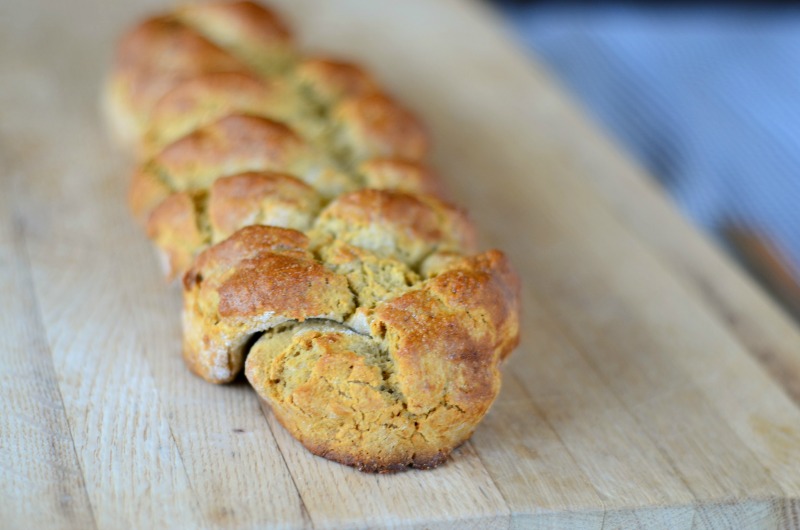 This loaf is also nut, coconut, dairy, and yeast free, so most of my family can eat it. My sister, who can't eat dairy or coconut, loved that she could enjoy this bread, and scarfed a few pieces as soon as I was done taking pictures of it!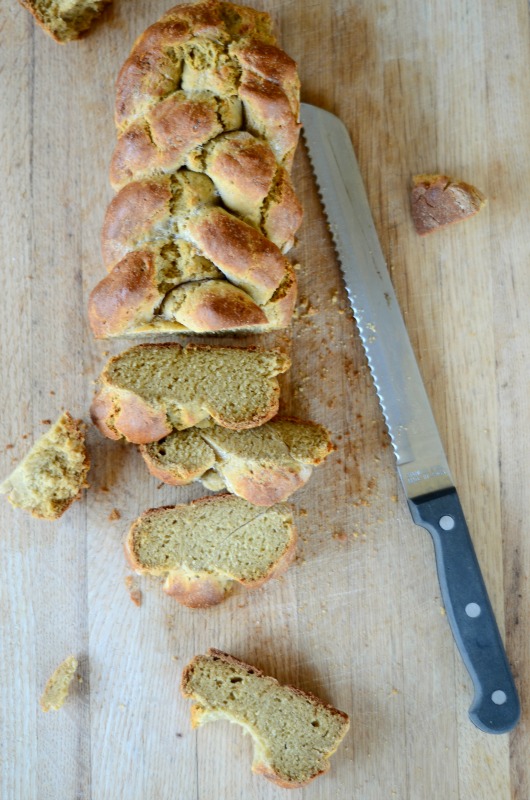 This bread is wonderful served with butter or some fruit-sweetened jam!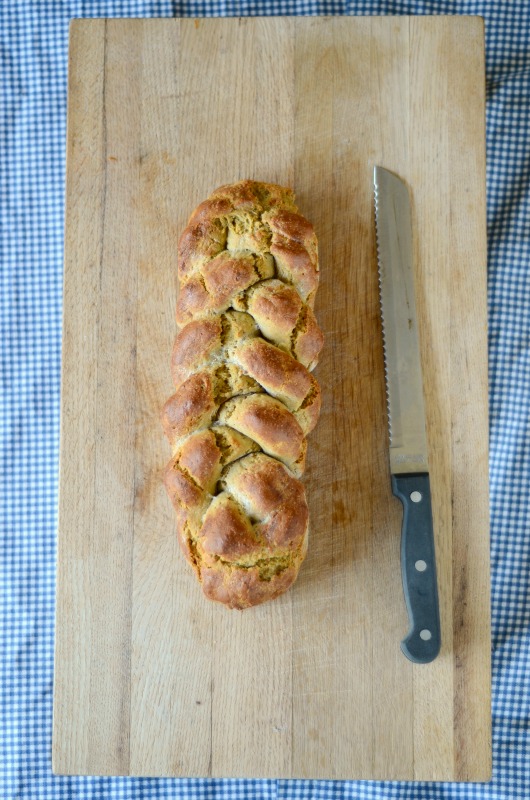 Paleo Challah
Instructions
Preheat oven to 350° F and grease a baking sheet.
In a mixing bowl, whisk together the eggs, olive oil, honey, and apple cider vinegar.
In another bowl, mix together the cassava flour, baking soda, and salt.
Add the dry ingredients to the wet and mix well to create a stiff/sticky dough.
Knead a few times on a cassava floured surface.
Divide into 3 sections and roll into 3/4" thick ropes.
Braid the ropes together, pressing the ends to hold together.
Transfer to baking sheet.
Brush with egg white.
Bake for 25-30 minutes.
Nutrition Information
Serving Size:
1/8 of recipe
Calories:
188
Fat:
8.9 g
Saturated fat:
1.6 g
Unsaturated fat:
7.3 g
Trans fat:
0 g
Carbohydrates:
24.7 g
Sugar:
6.7 g
Sodium:
435 mg
Fiber:
2.7 g
Protein:
2.7 g
Cholesterol:
82 mg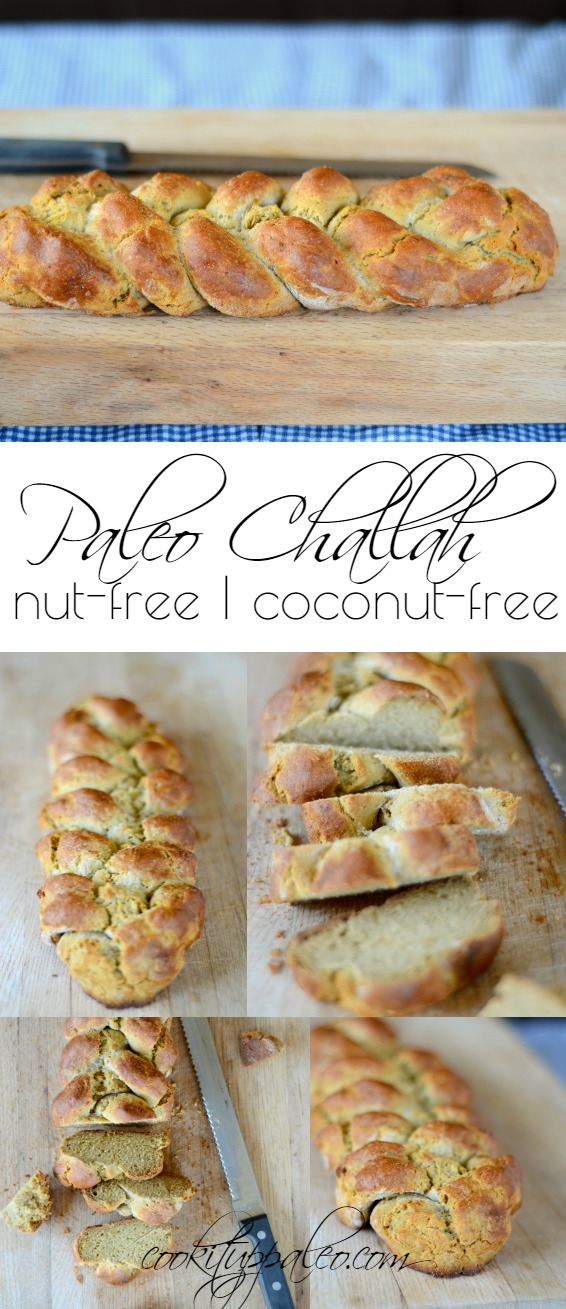 If you buy something through one of the links in my sidebars or posts, I may receive a small commission to support my blogging activities, at no extra cost to you. Thank you for your support.