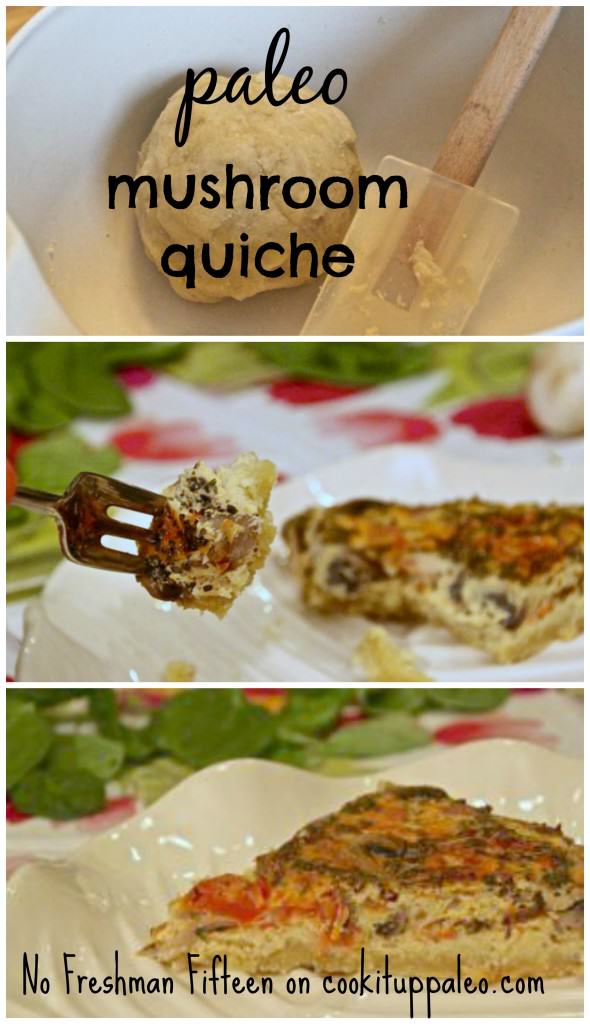 Blogger Bio:
My name is Ann-Cathrin and I run the blog No Freshman Fifteen. I'm a junior in High School and my goal is to educate other people my age (or older) about nourishing oneself with healthy food. I'm so excited that Heather let me write this guest post on Cook It Up Paleo! Enjoy the Paleo Mushroom Quiche.
You can find Ann-Cathrin on her blog, Facebook, Twitter, and Instagram.  
The other day I made a quiche for a party my mom was going to. As the recipe instructed, I cut up the veggies and grated the cheese.  I combined butter and all-purpose flour with water to make the crust. I cracked the eggs and whisked them with heavy whipping cream. All the while I was thinking, "There has to be a healthier way to make this."
I mean, come on. A whole stick of butter combined with white flour?
An ungodly amount of cheese on top of heavy whipping cream?
My arteries were clogging up just looking at it.
That is where this Paleo Mushroom Quiche got its beginnings. I wanted to make a dairy free and grain free alternative to this beloved brunch food. I got rid of everything that is considered "unhealthy" in the amounts the original quiche used – no cheese, no butter, no cream.
What's left is a delicious combination of whisked eggs, fragrant  mushrooms, ripe tomatoes, and pungent herbs.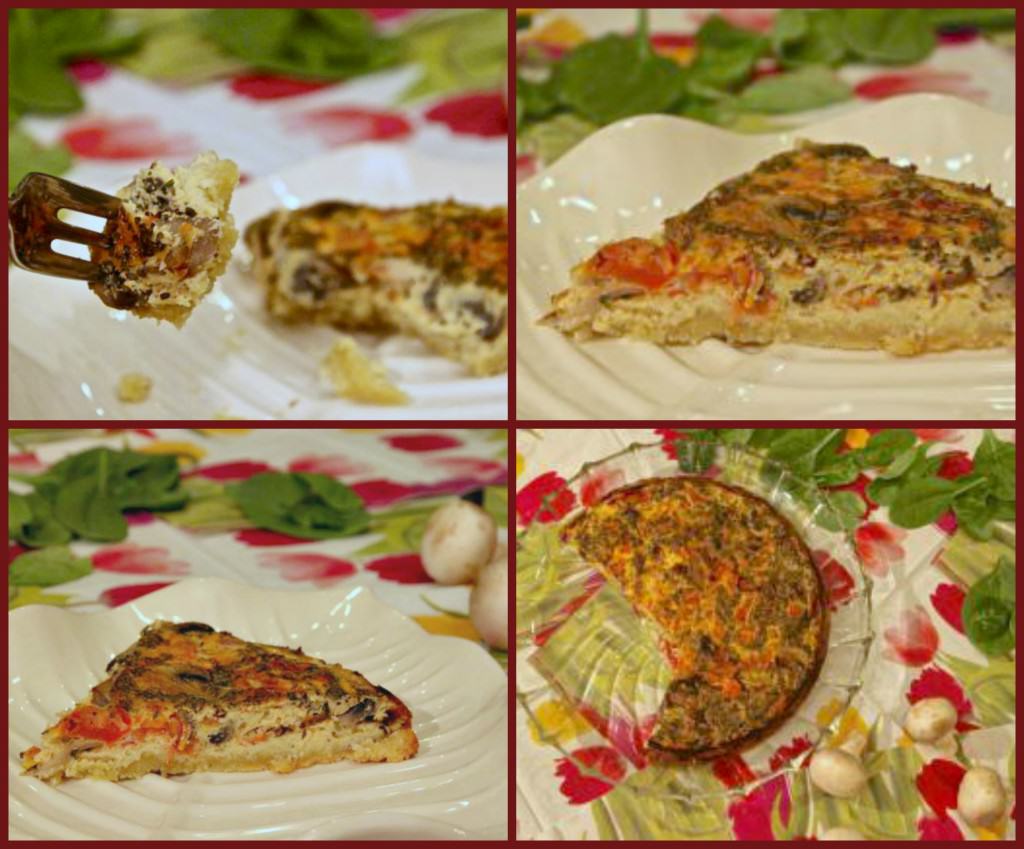 Please excuse my horrible quiche cutting skills.
This is one for the books.
Materials 
Large Bowl
9 inch round springform pan (or pie pan)
Large pan
Whisk
Spatula
Measuring Cups
Paleo Mushroom Quiche (guest post by Ann-Cathrin from No Freshman Fifteen)
Ingredients
For the Crust
Paleo Pie Crust - link at bottom of recipe
For The Quiche
coconut or olive oil - 1 tablespoon
mushroom - 3 cups sliced
garlic - 1 clove, crushed
tomatoes - 2 large, seeded and diced
eggs - 3
egg yolks - 2
coconut milk - 1/2 cup
dried basil - 1 tablespoon
dried oregano - 1 teaspoon
salt - 1/2 teaspoon
black pepper - 1/4 teaspoon
Instructions
Heat the oven to 375 degrees Fahrenheit.
Prepare the crust according to the directions. Don't bake it yet.
Grease a 9 inch round springform pan generously (also up the sides). Gently press the crust into the bottom of the pan (there won't be enough to go up the sides).
Heat a large pan to medium heat. Add 1 Tablespoon coconut or olive oil and swirl to coat.
Add 3 Cups of sliced mushrooms and sauté until lightly browned (about 7 minutes).
Add 1 clove of crushed garlic and the diced tomatoes to the pan. Continue to stir frequently (about 4 minutes).
In a large bowl, whisk 3 eggs and 2 egg yolks until frothy.
Add 1/2 Cup coconut milk and stir.
Add 1 Tablespoon basil, 1 teaspoon oregano, 1/2 teaspoon salt, and 1/4 teaspoon pepper to the egg mixture and stir.
Add the contents of the pan to the bowl and stir until well-combined.
Pour the contents of the bowl into the springform pan over the crust.
Bake at 375 degrees Fahrenheit for 30-35 minutes, until the center has set.Serve and enjoy 🙂
*Paleo Pie Crust Recipe: http://bit.ly/1t4DlEA