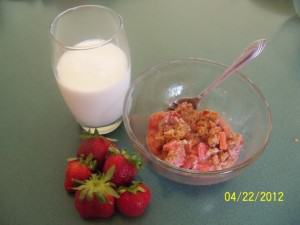 A couple weeks ago, Grandma asked me for a rhubarb crisp recipe. I found one on the Internet, and while it was utterly delish (you did a great job Grandma!), it had a good bit of honey/maple syrup in it. So yesterday, in an attempt to use our overabundant rhubarb, I created this version, which has a higher strawberry-to-rhubarb ratio. I felt justified in decreasing the sweetener a good bit because of this and the results were sweet enough but not teeth curling, perfect in Mom's and my opinion!
Paleo Strawberry Rhubarb Crisp
Recipe type:
Fruit Desserts
Ingredients
Filling:
rhubarb - 4 cups chopped
ripe strawberries - 2 cups sliced
ground nutmeg - pinch
maple syrup or honey - 5 tablespoons
arrowroot starch - 2 tablespoons
pure vanilla extract - 1-1/2 teaspoons
Topping:
blanched almond flour - 1/2 cup
unsweetened coconut flakes - 1/2 cup
walnuts - 1/2 cup
whole raw almonds - 3/4 cup
pure maple syrup - 2 tablespoons
pure vanilla extract - 1 teaspoon
ground cinnamon - 2 teaspoons
nutmeg - pinch
salt - dash
coconut oil - 1 tablespoon, melted
egg - 1 small
Instructions
In a bowl, mix together all filling ingredients and place in a greased 8x8 baking dish. In a food processor, combine almond flour, walnuts, coconut and almonds and pulse until mixed and chopped. Then add in maple syrup, vanilla, cinnamon, nutmeg, salt and coconut oil and pulse until mixed well. Then add the egg and process until combined. It should be pretty sticky. Crumble the topping evenly over the filling and bake at 350 degrees F for 30 minutes, then cover with foil and bake 20 minutes more.