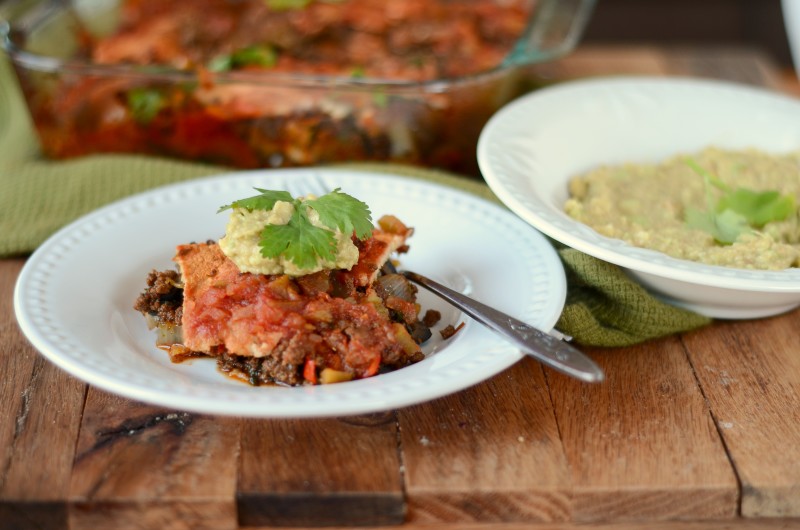 Well, it's Day 9 of the 21 Day Sugar Detox! I've had tons of energy lately and my appetite has been awesome (hungry at meals, not hungry in between)! I'm also finding out all the amazing ways you can cook with a green banana (I'm currently perfecting a 21DSD chocolate chip cookie recipe with green banana!).
I anticipate that today will probably be the hardest day of the detox because I seem to have caught my family's cold; I've got a terrible sore throat and kind of feeling "out of it" in general.  I'm also sore but I suspect that's from my rock climbing adventures!
Anyway, let's talk about meal prep! Our fridge is pretty bare right now but we do have this yummy taco casserole in the freezer and I'll probably break it out for lunch! It's so easy to make a big batch of this and have it for the week! It tastes like a cross between enchiladas and tacos and I know you'll love it!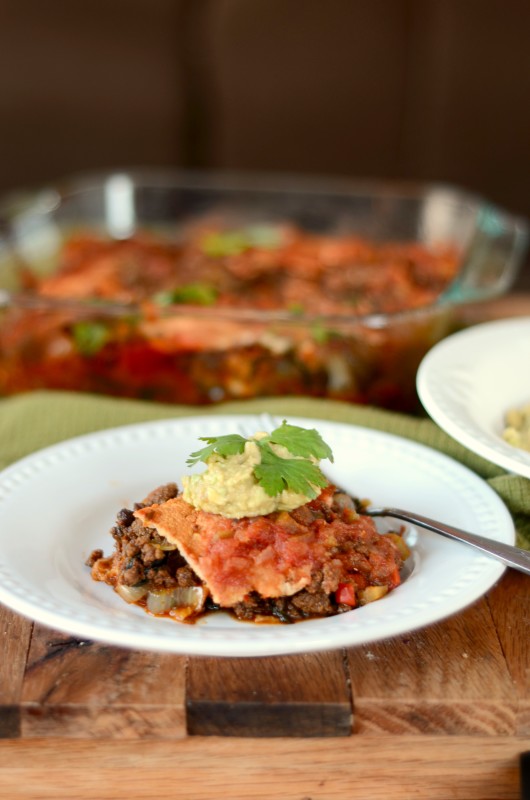 Paleo Taco Casserole (nut-free, 21DSD)
Ingredients
Tortillas:
Casserole:
1 pound ground beef
1/2 onion, chopped
1/2 cup chopped bell peppers
1 tablespoon chili powder
1/2 tablespoon onion powder
1/2 tablespoon garlic powder
1/3 cup chopped fresh cilantro
Salt to taste
2 cups salsa
Guacamole
1 ripe avocado
3 tablespoons salsa
1/2 tablespoon lime juice
Instructions
Tortillas:
Whisk together the egg whites and almond milk. Add the coconut flour and psyllium and mix well. Cook in the coconut oil on a hot skillet, 3-4 tablespoons at a time, until golden on each side. Set aside.
Casserole:
Preheat oven to 350° F.
Brown the beef in a large skillet and add the onion, peppers, and spices and cilantro. Cook until veggies are tender.
In a 9"x13" glass baking dish, layer the tortillas, meat mixture, and salsa. Keep layering until all the fixins are used up.
Bake for 25-30 minutes.
Let stand 10 minutes.
Slice and serve with guacamole: mash the avocado and stir in salsa and lime.
Enjoy!
Nutrition Information
Serving Size:
1/6 of recipe
Calories:
332
Fat:
15.9 g
Saturated fat:
6.6 g
Unsaturated fat:
9.3 g
Trans fat:
0 g
Carbohydrates:
19.1 g
Sugar:
5.1 g
Sodium:
733 mg
Fiber:
9.4 g
Protein:
29.5 g
Cholesterol:
68 mg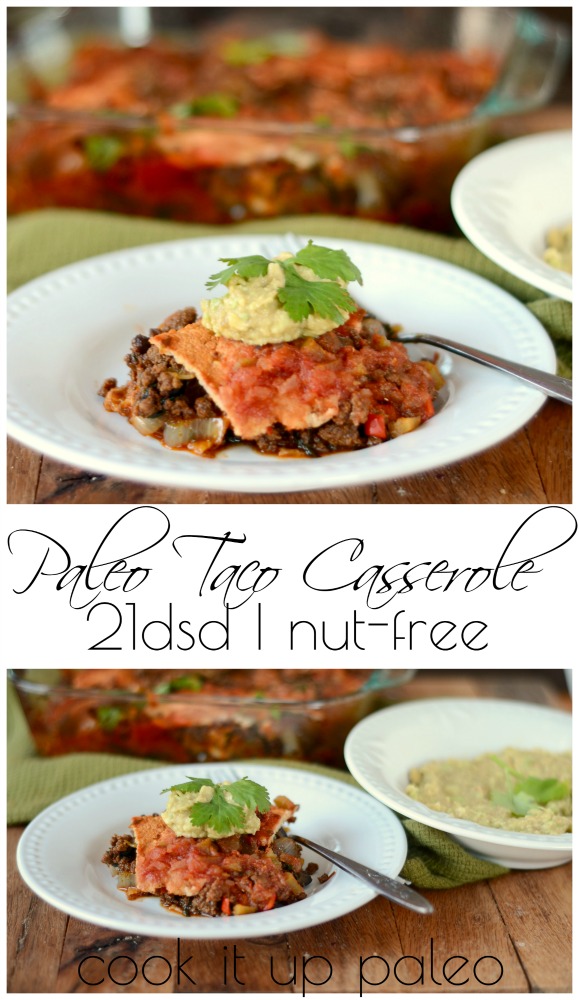 Shared at Allergy-Free Wednesday, Savoring Saturdays