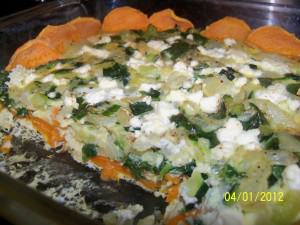 I sometimes have a hard time getting a nutritious and delicious breakfast on busy school-filled weekday mornings. Usually my breakfast is nutritious but not the most delicious. This frittata solved my problem completely. I got the idea for the filling from a baked-eggs-in-cups recipe that I made last weekend. This version makes more food and is therefore less labor intensive. I made it last night and it made a great bedtime snack as a well as breakfast this morning. It's not your standard meat-and-potato quiche by any means, but rather an extremely flavorful frittata with an ingenious crust, no mixing or prebaking required! If you want to serve more people with it, you can double recipe and use a 9×13 pan, add cooked ground meat to the mix, or both!
Sweet Potato Crust Quiche
Ingredients
canned sockeye salmon - 14.75 oz, drained and flaked
carrot - 1
garlic - 2 cloves
celery - 1 rib
green onions - 3
red pepper - 1/2
broccoli - 1/2 small crown
bacon - 1 strip, cooked and crumbled
ground cumin - to taste
dried oregano - to taste
salt - to taste
eggs - 2
Instructions
Add all the veggies to a food processor and finely chop. Place in a mixing bowl. Add the salmon, bacon, cumin, oregano, salt and eggs and mix well. Form into small patties with your hands and cook in a hot skillet in the bacon grease until browned on both sides.