Note from Heather: I'm so excited to welcome Justin and Erica of Real Simple Good as they guest post this amazing recipe today! I've been following their blog for a little while and I'm so impressed by the simple deliciousness (and mouthwatering photography) of every one of their recipes! Now if you'll excuse me, I need to go make and devour a large pan of Paleo Lasagna.
Well, first off let's just introduce ourselves. We are Justin and Erica from realsimplegood.com, a paleo food and living blog where we share delicious, healthy recipes made with real ingredients. We're so excited to be featured on Cook It Up Paleo! What a treat! Thank you, Heather! Here's a little about us. We live in the Pacific Northwest, and our recipes are inspired by the abundance of fresh, local ingredients grown and raised close to home. We also feature delicious dessert recipes using paleo friendly ingredients. Having grown up on a small farm, Justin has gotten back to his roots with the paleo diet, and Erica has Multiple Sclerosis and adopted the paleo diet to reduce inflammation and prevent any further neurological degeneration related to her autoimmune disease. In the process of changing our diets, we both fell in love with the paleo lifestyle and enjoy sharing our passion with others.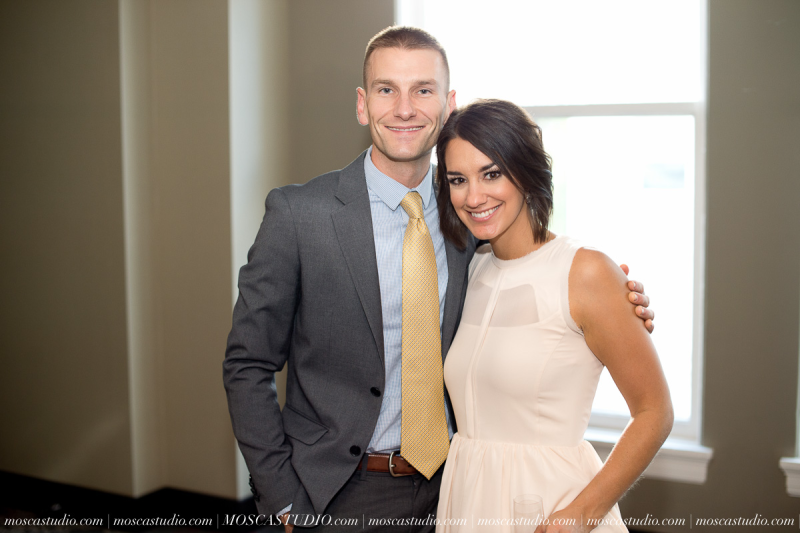 Ok, on to the good stuff…these tasty sweet and savory baked pears. You don't want to miss a thing. We don't eat pears all year long since they are more of a sugary fruit, but when they are fresh and in season we sure make the most of them, especially with these sweet and savory baked pears. They are kind of fancy and decadent, but a breeze to put together. They are eye catching, captivating, and an easy way to impress your guests.
The best part about these baked pears is that they are made two ways, which means you'll surely impress all of the palates in your house. First, to satisfy the ultimate sweet tooth we've made a baked pear with grassfed butter or ghee and cinnamon that is filled with crushed pecans and then topped with caramel. Next up, a more savory, indulgent baked pear with buffalo mozzarella, bacon, rosemary and drizzled with balsamic vinegar. I know…I told you it was kind of fancy.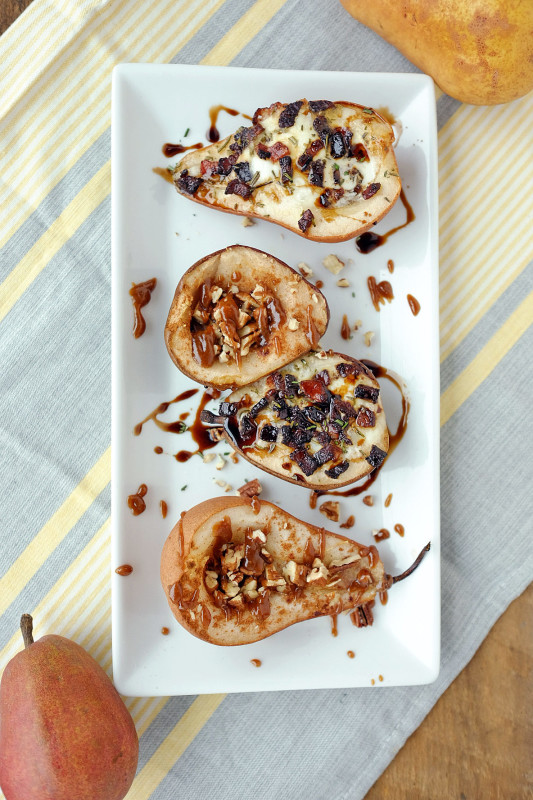 You can have a few bites of each and have a luscious, sweet-tooth satisfying bite or two, or three or four…and then hop on over to the more savory one and revel in the rich and aromatic bacon, rosemary, and buffalo mozzarella. They are seriously soul satisfying and rich and complex in flavor, yet simple to create.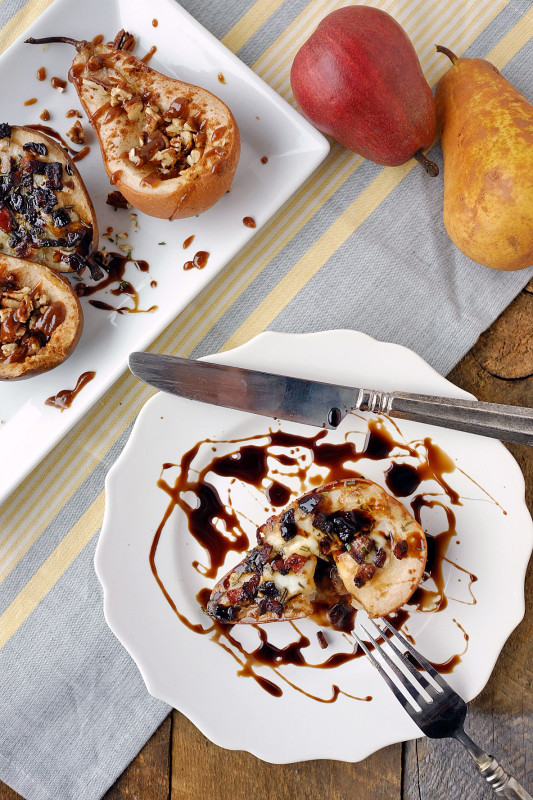 It is pretty easy to find grassfed buffalo mozzarella at a store like Whole Foods, and it is a real treat. We don't eat it often, but it is sure a luxurious dessert if your stomach can tolerate it. We've found that grassfed mozzarella doesn't bother our stomachs. Dairy used to give me headaches, but I'm happy to say that is a non-issue with the buffalo mozzarella for me. Our caramel sauce for the sweeter baked pear is also decadent and almost sinful it is so good. Just look at it catching the light as it rolls off the edge of the pear. Mmmm…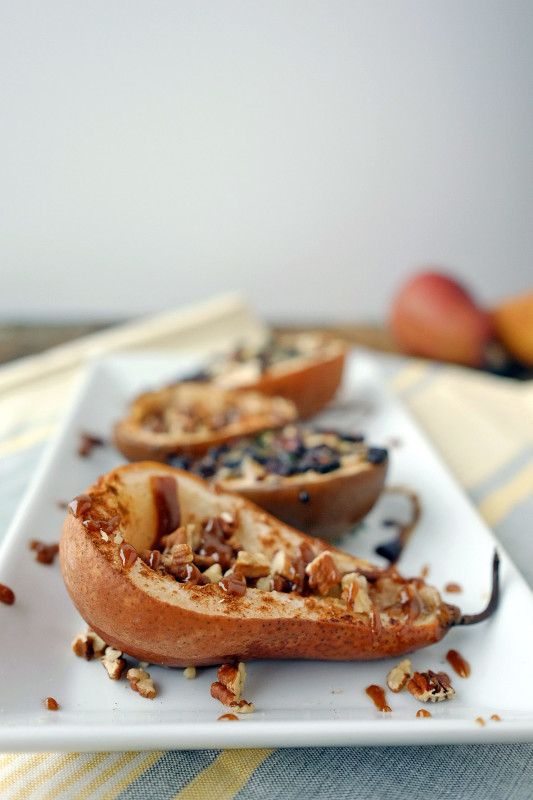 Get to the kitchen and make these sweet and savory baked pears! Let us know how you like them by leaving a comment below. Also, take a picture and tag it on Instagram @realsimplegood so we can check it out!

Sweet and Savory Paleo Baked Pears
By:
Justin and Erica @ Real Simple Good
Recipe type:
Fruit Desserts
Ingredients
2 pears - we used bosc and red anjou
For the sweet pear:
1 tbsp grassfed butter or ghee
Cinnamon, sprinkle to your taste
¼ cup pecans, roughly chopped (set them aside until the pears are baked)
¼ cup caramel sauce (see below for instructions on how to make the sauce)
For the savory pear:
2 tbsp grassfed buffalo mozzarella
1 piece of bacon, diced and cooked until crispy
1 tsp fresh chopped rosemary
Balsamic vinegar, drizzle to your taste
For the caramel sauce:
Instructions
Preheat your oven to 350 degrees fahrenheit.
Place a skillet over medium heat to crisp your bacon bits. Stir them around occasionally and then remove from heat once they start to get a little crispy and place them on a napkin lined plate. They will sizzle and crackle on the stove and make your house smell like breakfast. Yum!
While the bacon is cooking, cut your pears in half and scoop out the seeds to form a bowl for your goodies to go in. You will have two halves for the sweet ingredients and two halves for the savory ingredients.
For the sweet pear
Place a ½ tbsp of grassfed butter in each half. Then sprinkle with cinnamon, and place on a baking sheet.
For the savory pear
Place about a tablespoon of grassfed buffalo mozzarella in each half. Then, crumble your crispy bacon on top and sprinkle with rosemary. Place on your baking sheet with the sweet pear.
Bake your pears for 30 minutes.
While the pears are baking, chop your pecans, and make your caramel sauce when there are about 10 minutes left on the pears in the oven.
For the caramel sauce
Heat a small skillet over medium heat. Add your coconut or maple sugar and nut or coconut milk to the pan. Stir until the ingredients are smooth and creamy. The mixture will still be pretty thin and soupy. Add your cashew butter and salt. Continue to stir until the sauce is velvety and thick. You can turn the heat down to low and just let it simmer until your pears are finished baking.
Once the pears are done baking, remove from the oven and fill up the sweet pear halves with your chopped pecans and caramel sauce.
Drizzle balsamic vinegar over the savory pears.
Alright, that's it. Get to eating these babies up! They're a little fancy, yet still easy to create. Enjoy and watch as you totally impress your family and friends.
Don't forget to follow Justin and Erica!
Instagram: @realsimplegood
Twitter: @realsimplegood
Email: realsimplegood@gmail.com